Agglomerator machine (AL-50)

Agglomerator machine (AL-70)

Agglomerator machine (AL-70)

Agglomerator machine (AL-70)
Introduction and Advantages of Alfa machine's Agglomerator :
Agglomerator machine and Plastic punching machine has many uses in the Recycling industry, including:
AL series of Alfa machine agglomerators can provide a way to recycle all kinds of soft films such as: PV , PP , PE , PVC , LDPE , HDPE , LLDPE , BOPP , HM , Polyester , Nylon , trim scraps , baled or loose film , synthetic fiber , carpet and etc.
Agglomerator is ideal to convert plastic waste dense cubes for easy feeding into Extruder.
The advantages of this device are as follows:
One machine with multiple purposes. It can mix and dry materials.

Recycle any soft films

The machine needs small area, low energy consumption, low depreciation and high efficiency.

The machine doesn't damage the color, the molecule and chemical structure of the material.

Contains a water circulator for cooling bearings

Pneumatic drain valve
Description of the operation of the Agglomerator machine:
When the waste material is poured into the agglomerator machine, the process of recycling is started. first the materials are crushed by the blades. then the materials are changed into a dough form by high friction and heat. After that the materials are pulverized into small grains  by adding some water and are discharged by opening the pneumatic valve.
Machine Blades:
The AL series agglomerator blades are designed to shred the materials as soon as the waste materials are spilled on the machine. The easy sharpening is another advantage of these blades.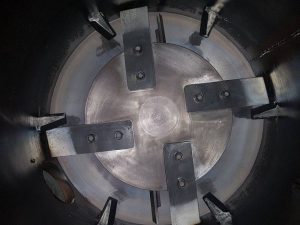 Device drain valve:
The drain valve of the Alfa machine agglomerators is pneumatic and the draining process is done simply.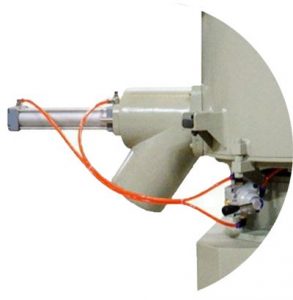 Electrical panel:
The Electrical panels of Alfa machine agglomerators have high quality.
Technical Specifications:
| | | | |
| --- | --- | --- | --- |
| Model | AL – 50 | AL – 70 | AL – 90 |
| Production capacity | 40 – 50 kg/h | 180 – 200 kg/h | 280 – 300 kg/h |
| Power of motor | 15 kw | 30 kw | 75 kw |
| Weight of whole machine | 570 kg | 1000 kg | 1500 kg |
| Overall dimensions | 1250 × 650 × 1700 | 1550 × 850 × 2100 mm | 1800 × 1100 × 2350 mm |
Video: